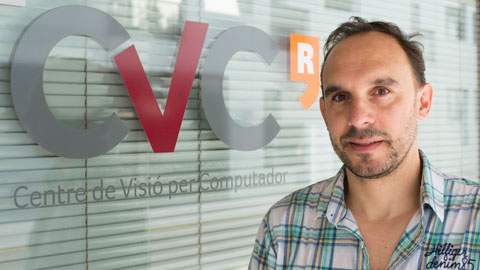 Position:
Group Responsible for Research Projects
Level:
Associate Director at Computer Vision Centre (CVC).
Associate Professor at Comp. Sience Dep. Universitat Autònoma de Barcelona (UAB).
President of the European Network of Living Labs (ENoLL)
Phone:
+34 93 581 2691
Email: 
fernando (at) cvc.uab.es
Social:
Here my profiles at Google Scholar, LinkedIn, and Twitter
 
 
Research
(4-page CV)
My research interest is focused on Image Processing and Machine Learning. I received my Ph.D. in 2006 and I have spent research stages in leading institutions in the area of Computer Vision and Machine Learning, such as the Computer Vision Centre in Barcelona, Spain, the School of Informatics in Bangor Univ. Wales, U.K., and the Computer Science Dep. in Trinity College Dublin, Ireland. I was granted with the Ramon y Cajal Grant from the Spanish government in 2009, I am currently holding an Associate Professor position at Univ. Autonoma de Barcelona, and I am Associate Director at the Computer Vision Centre.
I have participated in diverse competitive research projects, and different projects of technology transfer and research contracts with private institutions. The contributions of my research have been published in international peer-reviewed indexed journals of top impact factor and I am the co-author of 5 patents, currently under exploitation. I have been co-organizer of different international events and I have given invited talks for the Univ. of Wales, Trinity College Dublin and Porto Univ.
I am the PI of different projects in the area of Computer Vision, and through my work as Associate Director of the CVC I have participated in the design of technology transfer mechanisms for the creation of a number of spin-offs from technology assets of the CVC. I am particularly interested in paradigms of Open Innovation and Open Science, and I have implemented a model of Living Labs (librarylivinglab.com) for the fast prototyping of novel products and services. In this context, I am particularly interested in novel paradigms for the transfer of Computer Vision-based technologies in the area of Culture for the (re-) valorisation digital collections. My current research here investigates the use of eye-tracking technologies and their potential uses to link physical and digital objects, for which I was gratend with the Google Research Award in 2014.
I have my lecturing in differnt subjects of the Bachelor's Degree in Computer Engineering at the Engineering School UAB, and I also participate as a teacher in the Master in Computer Vision, UAB.
I am member the Elected President of the European Network of Living Labs (ENoLL) and I am member of the following organizations:  Institute of Electrical and Electronics Engineers (IEEE), Asociación Española de Reconocimiento de Formas y Análisis de Imágenes (AERFAI), Eye Movement's Researchers Association (EMRA), European Association for the Study of Science and Technology (EASST). I am a close collaborator of the European Network of Living Labs (ENoLL) with whom I participate as an advisor for the EU Open Science, Open Innovation and Open to the World (O3) strategy in the context of the European Open Science Policy Platform (OSPP).
Keywords: Medical Imaging, Machine Learning, Image Processing, Endoscopy, Eye Tracker, Technology Transfer, Living Lab, Mobile Learning.
Academic background
B.Sc. in Physics, Univ. Santiago de Compostela, Spain
M.Sc. in Computer Vision and Artificial Intelligence in Univ. Santiago de Compostela, Spain.
Ph.D. degree by Univ. Autònoma de Barcelona.
Recent Projects
Eye Tracking
Novel paradigms for the use of tecnology in society
A Living Lab for the Libray of the Future. Computer Vision in the context of culture and Citizen Science. Funded by UAB, CVC and Municipality of Sant Cugat, Barcelona.
Mobile Learning. Using mobile technologies in the framework of the European Space for Higer Education. Funded by Catalonian Gov.
Medical Imaging
Exhibitions and participation in workshop
Invited speaker
I was the director of the following Final Study Projects in Machine Learning, Computer Vision and Robotics
(1)  The Titan Xp hardware used for this research was donated by the NVIDIA Corporation Program, and it was used to train deep learning algorithms.
Patents
Publications